This list is compiled by Kate (11) and Kris. Some of our favorite (recent) Middle Grade reads.
We're excited about AT YOUR SERVICE by Jennifer Malone -- due out in August 2014
from Goodreads.com
Thirteen-year-old Chloe Turner wants nothing more than to follow in Dad's footsteps as a respected concierge in a posh NYC hotel. After all, living at a hotel is heaven, and perks like free concert tickets and all-access passes to boutiques, restaurants, and attractions aren't too shabby either.
When the spoiled brat child of an important guest is only placated by some quick thinking on Chloe's part, Chloe is awarded the role of Junior Concierge. But she might be in over her head when tasked with tending to the every whim of three royal guests: a twelve-year-old princess who can't stand Chloe, a cute fourteen year-old prince(!), and their ten-year-old sister, who has a nasty knack for getting herself lost. After the youngest princess slips Chloe's care, Chloe and the remaining royals must embark on an event-filled hunt for her through NYC's best tourist spots.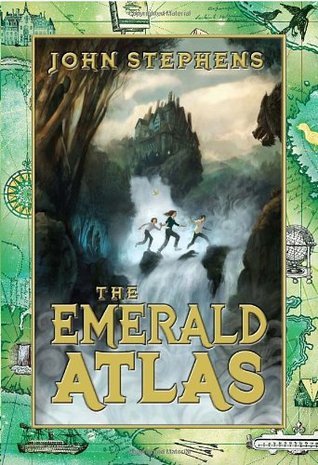 This is a fun, seat-of-the-pants adventure.
THE EMERALD ATLAS by John Stephens
from Goodreads.com
Called "A new Narnia for the tween set" by the New York Times and perfect for fans of the His Dark Materials series, The Emerald Atlas brims with humor and action as it charts Kate, Michael, and Emma's extraordinary adventures through an unfo
rgettable, enchanted world.

These three siblings have been in one orphanage after another for the last ten years, passed along like lost baggage.

Yet these unwanted children are more remarkable than they could possibly imagine. Ripped from their parents as babies, they are being protected from a horrible evil of devastating power, an evil they know nothing about.

Until now.

Before long, Kate, Michael, and Emma are on a journey through time to dangerous and secret corners of the world...a journey of allies and enemies, of magic and mayhem. And—if an ancient prophesy is correct—what they do can change history, and it is up to them to set things right.
From the author of Artemis Fowl, a great new time travel adventure.
THE RELUCTANT ASSASSIN by Eoin Colfer
from Goodreads.com
The reluctant assassin is Riley, a Victorian boy who is suddenly plucked from his own time and whisked into the twenty-first century, accused of murder and on the run.

Riley has been pulled into the FBI's covert W.A.R.P. operation (Witness Anonymous Relocation Program). He and young FBI Agent Chevie Savano are forced to flee terrifying assassin-for-hire Albert Garrick, who pursues Riley through time and will not stop until he has hunted him down. Barely staying one step ahead, Riley and Chevie must stay alive and stop Garrick returning to his own time with knowledge and power that could change the world forever.
One of our favorite time travel novels (are you sensing a theme?)
THE TIME TRAVELERS
(also known as GIDEON THE CUTPURSE) by Linda Buckley-Archer
from Goodreads.com
Gideon Seymour, cutpurse and gentleman, hides from the villainous Tar Man. Suddenly the sky peels away like fabric and from the gaping hole fall two curious-looking children. Peter Schock and Kate Dyer have fallen straight from the twenty-first century, thanks to an experiment with an antigravity machine. Before Gideon and the children have a chance to gather their wits, the Tar Man takes off with the machine -- and Kate and Peter's only chance of getting home. Soon Gideon, Kate, and Peter are swept into a journey through eighteenth-century London and form a bond that, they hope, will stand strong in the face of unfathomable treachery.
We love this contemporary Middle Grade...lots of Broadway Show name dropping!
BETTER NATE THAN EVER by Tim Federle
from Goodreads.com
Nate Foster has big dreams. His whole life, he's wanted to star in a Broadway show. (Heck, he'd settle for *seeing* a Broadway show.) But how is Nate supposed to make his dreams come true when he's stuck in Jankburg, Pennsylvania, where no one (except his best pal Libby) appreciates a good show tune? With Libby's help, Nate plans a daring overnight escape to New York. There's an open casting call for E.T.: The Musical, and Nate knows this could be the difference between small-town blues and big-time stardom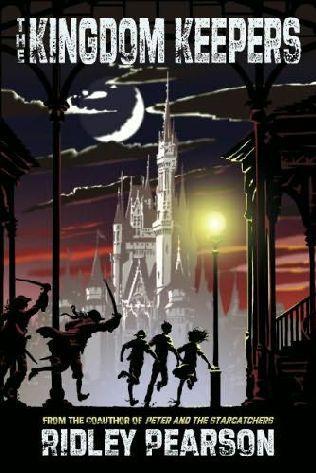 We love Disney, so this adventure around the parks is a favorite.
THE KINGDOM KEEPERS (DISNEY AFTER DARK) by Ridley Pearson
from Goodreads.com
In this fantastical novel, Disney's Magic Kingdom suddenly becomes a bit eerie. Finn Whitman and four other teens have been hired as Disney World guides, but with an odd twist: With cutting-edge technology, they have been transformed into hologram projections capable of leading guests around the park. What begins as an exciting theme park job turns into a virtual nightmare as Finn and his pals attempt to thwart an uprising by a menacing group of Disney villains.
A fun mystery, with a twist ending. I love the friendship in this one.
THE WIG IN THE WINDOW by Kristen Kittscher
from Goodreads.com
Best friends and seventh graders Sophie Young and Grace Yang have made a game out of spying on their neighbors. On one of their midnight stakeouts, they witness a terrifying, bloody scene at the home of their bizarre middle-school counselor, Dr. Charlotte Agford (aka Dr. Awkward).

At least, they think they do. The truth is that Dr. Agford was only making her famous pickled beets! But when Dr. Agford begins acting even weirder than usual, Sophie and Grace become convinced that she's hiding something—and they're determined to find out what it is.

Soon the girls are breaking secret codes, being followed by a strange blue car, and tailing strangers with unibrows and Texas accents. But as their investigation heats up, Sophie and Grace start to crack under the pressure. They might solve their case, but will their friendship survive?

Perfect for fans of The Mysterious Benedict Society, The Wig in the Window is a smart, funny middle-grade mystery with a REAR WINDOW twist.
We haven't read this one yet, but we love Anna's other books, so we're really excited to pick this one up!
THE DIRT DIARY by Anna Staniszewski
from Goodreads.co
m
WANTED: Maid for the most popular kids in 8th grade.

Cleaning up after the in-crowd gets Rachel all the best dirt.

Rachel can't believe she has to give up her Saturdays to scrubbing other people's toilets. So. Gross. But she kinda, sorta stole $287.22 from her college fund that she's got to pay back ASAP or her mom will ground her for life. Which is even worse than working for her mother's new cleaning business. Maybe. After all, becoming a maid is definitely not going to help her already loserish reputation.

But Rachel picks up more than smell socks on the job. As maid to some of the most popular kids in school, Rachel suddenly has all the dirt on the 8th grade in-crowd. Her formerly boring diary is now filled with juicy secrets. And when her crush offers to pay her to spy on his girlfriend, Rachel has to decide if she's willing to get her hands dirty..